If you have a Google account – as do most users that own an Android phone or tablet, it is likely that you have used at least one useful service introduced by Google, only to see it shut down after a couple of years. One such feature that is missed by many users years after it was shut down was the very popular Google Reader, but it looks like the company is bringing Reader's best feature to Chrome on Android.
Also read: Twitter removed image cropping on iOS, Android apps because it's biased
While this isn't exactly a feature that was discussed at Google I/O, the Chromium team on Wednesday announced a new feature – an RSS (or Really Simple Syndication) reader built into Chrome for Android. This means that just like Feedly, The Old Reader and Flipboard, users will be able to 'subscribe' to feeds from their favourite news websites and blogs, from their browser.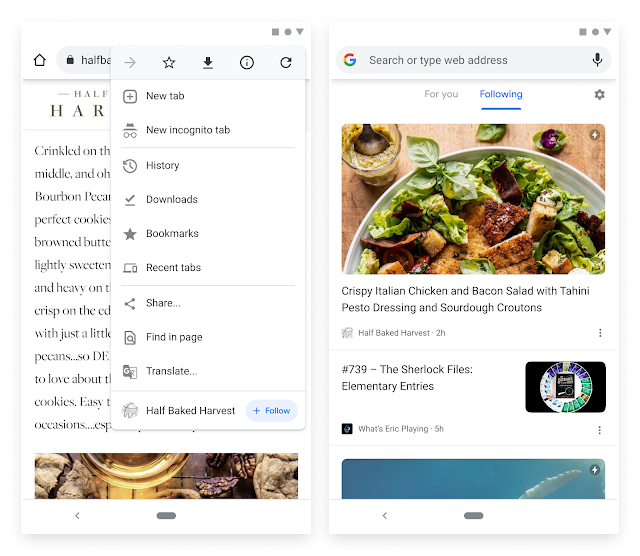 Over the next few weeks, the company's Chrome browser will receive a new experimental 'Follow' feature as part of the browser's menu on the top right corner of the screen, the company says. This will roll out to users on Chrome Canary, and appears limited to the US – but users might be able to enable the feature via a Chrome flag. Once enabled, new articles from websites that are followed will show up on the New Tab page under the Following section.
Google clearly wants the feature to be as simple to use as possible. "Our goal for this feature is to allow people to follow the websites they care about, from the large publishers to the small neighborhood blogs, by tapping a Follow button in Chrome," the Chromium team said on its blog. It also wants websites to keep their RSS feeds up-to-date so that Chrome can serve up the latest content when they open up their browser.
Read more: Fake Microsoft Authenticator extension removed after weeks on the Chrome Web Store
This is still a browser experiment at the moment, so there's no saying whether it will come to all users in the future via a stable Chrome release. "We will provide more guidance to web publishers as we learn and evaluate whether this feature will graduate from an experiment to a broader rollout in Chrome," the team added.